Universal Studios
Universal Studios Escape has developed into a vacation destination beyond your imagination. It will set the standard for entertainment well into the millennium. Universal Studios Escape is a combination of many world class and technologically unique facilities: Universal Studios Florida is the largest working film and television production studio outside Hollywood.
With more than 40 incredible rides, shows, movie sets and attractions, The No. 1 Movie Studio and Theme Park in the World is the only place on earth where you can Live The Movies! Universal Studios CityWalk is an unparalleled entertainment, dining and shopping complex featuring famous name restaurants and nightclubs. Universal Studios Islands of Adventure, with state-of-the-art rides and attractions, will carry us into the next millennium and beyond.
Universal Studios Escape is situated on more than 840 acres. It would take more pages than are in a Best Read Guide to tell you all about it, but follow through for a brief taste of the "Orlando Vacation Destination for the 21st Century".
Universal Studios Florida
Live The Movies , and experience what it's like not only to be behind the scenes ... but IN the scenes.
Fear Factor Live
Test your courage and strength as you perform pulse-pounding stunts in new Fear Factor live shows.
Based upon the award-winning NBC program "Fear Factor," Fear Factor Live marks the first time a reality television show will be transformed into a theme park experience. It is also the first NBC television product to be fully integrated into Universal's theme parks.
Park guests will compete against each other in a progression of extreme stunts.
Members of the audience will play an interactive role by blasting contestants with water and air and controlling obstacles on stage. In addition, audience members can spin the "Wheel of Fear" and confront their own phobias.
Revenge of the Mummy
This one of a kind track launches riders into horrifying curves,drops and sweeping turns. The sand filled tracks are statistically designed to minimize sound - so the only noises you hear are the roars of the undead and your own screams. The only indoor roller coaster to employ forward and backword motion.
Shrek® and Donkey are back!
Join Princess Fiona and our heroes as they take you along every step of the way in an all-new honeymoon adventure. This new attraction features an original and stunning 3-D film, plus an extra dimension of special effects. Through the miracle of OgreVision, you see, hear and actually FEEL the action right from your seat.
Jimmy Neutron's Nicktoon Blast
The evil Ooblar from the planet Yokian has stolen Jimmy's newest rocket creation...The Mark IV. You'll blast off on a neutronic trip as you board your own rocket and follow Jimmy, his best friend Carl and Jimmy's faithful robotic dog, Goddard, on a wild chase through your favorite Nicktoons, including SpongeBob,SquarePants,the Fairly OddParents, Hey Arnold!, and Rugrats.
Twister ... "Ride it Out"
Based on the hit film "Twister", this attraction places you a mere 20 feet from the awesome live spectacle of a towering five-story tornado.
Terminator 2: 3-D Battle Across Time
Based on the popular Terminator movies, this 3-D adventure is one of the more elaborate and technologically advanced theme park experiences ever created.
Jaws
Just when you thought it was safe to go back into the water, the Great White Shark is back with a ferocious fury never before seen.
Back To The Future The Ride
Become part of the most intense multi-sensory motion picture experience possible. Time travelers free-fall down volcanic tunnels aflame with red hot molten lava, cascading and careening through the past, present and future in the most ambitious ride ever engineered.
Men In Black Alien Attack
As an agent trainee, you will zap aliens as you chase them through the streets of New York in this high-tech ride based on the hit movie.
But be warned... these aliens zap back, spining your vehicle wildly out control. The outcome is based on your score - save Earth and you might get promoted to full-fledged Men in Black agent! It's never the same ride twice
Attractions: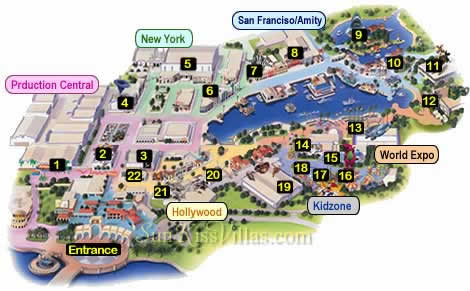 1. Nickelodeon Studios
2. Jimmy Neutron - Blast
3. Shrek 4-D™
4. Twister...Ride it Out
5. Revenge of the Mummy
6. The Blues Brothers
7. Beetle Juice
8. Earthquake
9. Jaws
10. Fear Factor Live
11. Wild, Wild, Wild West
12. Men In Black
13. Back To The Future
14. Animal Planet Live ®
15. A Day In The Park With Barney™
16. Fievel's Playland®
17. Woody Woodpecker's KidZone
18. Curious George Goes To Town
19. E.T. Adventure®
20. Universal Horror Make-Up Show
21. TERMINATOR 2: 3-D
22. Lucy - A Tribute


Discount Attraction Tickets
You can purchase your Orlando attraction tickets now to save time and money when going to the parks. This includes tickets to all Disney attractions, Universal Studios, Islands of Adventure, Sea World, Dinner Shows and much, much more.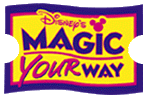 Orlando's #1 Discount attraction ticket agency, selling millions of tickets around the world. Allow us to save you time and money without standing in line at the theme park ticket windows.
Click Here for Discount Tickets at The Official Ticket Center.